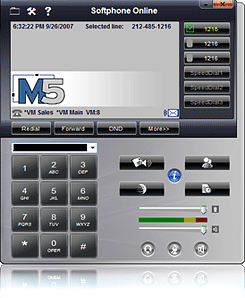 VTGO-PC for M5 is a Windows 7, Vista, XP softphone application optimized for M5 VOIP telephony service. Users will enjoy an extended use of their M5 service after installing this phone on their PC.
The softphone emulates the Cisco 7940,7941, 7960,7961 IP phone types in form and function including support for IP phone services. VTGO-PC Advanced expands beyond the features and services offered in the VTGO PC Lite version with support for Add-on Modules (+28 buttons), Call Recording.
Applications include: Telecomuting, Call Coverage, business resumption, voice trading, executive assistant coverage, and as a desktop solution for advanced users.
USB Phone support is included for: VoIP Voice, Claritel, Eutectics, Plantronics, GN Netcom.